As guides, there are not many things we are picky about. I mean, we sleep on the ground for about three months a year to experience the one of the most incredible wildernesses in the country. Point being, our standards for comfort aren't very high. But when it comes to the waders we live in and work in during the summer season, we choose wisely. A good pair of waders can mean the difference between comfort and misery in southwest Alaska. There are few things that will put you in a bad mood faster than pulling on waders that are soaked through on a rainy morning. For this reason, we belive in shelling out some extra bills for the best of the best. So here's a few thoughts on which route to go on waders from some folks who wear their waders almost every day from June to September…
Zippered vs. Non-Zippered
There's a few things that we hear a lot at the end of a trip, and "next time I come, I'm getting waders with a zipper" is usually among them. They aren't essential, especially for anglers that rarely wear waders outside of their Alaska trip, but they make life on the river a whole lot easier. They are easier to get on and off, and makes a midday pit stop less of production. Especially when it is raining hard.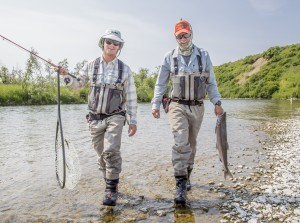 As we are strutting our waders around the floatplane dock getting ready to take off, most guests will ask, "don't you worry about the zipper leaking?" We can assure you that this has proved to be one of, if not the MOST waterproof part of the waders. Both YKK and Tizip have done an extraordinary job designing these zippers and the engineering inspires our confidence in the product.
The Downside?
Dollars: Most high-end zippered waders are going to hurt to buy. Simms G4Z waders clock in at 800 bucks and Patagonia zippered Rio Gallegos are $600. Not cheap, but again, if you wear them a lot and want to make life easier, it's worth the extra money.
Sense: If you like to roll your waders down around your waist for a little air flow on hot days, the zippered waders may not be best for you. You will also sacrifice a pass-through hand warmer pocket but most waders still feature individual hand warmer pockets to keep your digits toasty.
Simms and Patagonia
In our minds, there are two main categories of waders. Simms and Patagonia versus everything else. There is a reason that almost every Alaska guide you see is wearing a pair of these. They are durable, have a lot of features, and they have good warranties if something goes wrong.
Ultimately, if you put any wader through the ringer of intense guide work and long days, they will all leak eventually. Our goal is to make it through a full season on just one pair of waders. Both Simms and Patagonia have accomplished this feat while working with Wild River Guides in the Alaskan Bush.
Simms
The Pros: Once you get past the price tag, there's a lot of pros to Simms waders. Speaking about the "Guide" Series, specifically the G4Zs, the five layers of Gore-Tex really comes in handy. Jumping in and out of rafts, setting up camps on gravel bars, and bushwhacking through willows takes a big toll on waders. The multiple layers of Simms take a lot of abuse, and we have had several pairs last multiple Alaska seasons. The zipper is bomber, and there are a lot of pockets on the chest for stashing everything you will need throughout the day.
The Cons: The many layered design means more "stiffness" and less comfort and flexibility. There are fewer seams on the G4Z model, so less likely to fail, but it makes doing a cartwheel a little tougher. And jumping in and out of boats isn't exactly a picnic, at least until the waders are worn in. Buying one size up in these bad boys goes a long way towards crouching over to grab that fly box you dropped. Again, the price on these things can be hard to swallow, but with good care they will last many seasons.
If you don't think the zipper is your cup of tea, check out the G4 Pro Wader.
Patagonia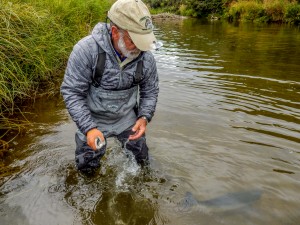 The Pros: For a few hundred less bones then the G4Z's, you can get yourself into the Rio Gallegos Zip-Front Wader from Patagonia. This is a proven wader that has passed the full season field test several times. The 4-layer H2No breathable fabric stands up to hopping in and out of rafts, breaking up logjams, and short wind-sprints. The removable foam kneepads are a lifesaver when hammering on tent stakes or releasing fish. Both internal and external pockets provide enough room for gear with hand warmer pockets for chilly days. The flip out waterproof internal pocket is a nice feature for keeping licenses dry or shielding a cell phone from the elements (if you happen to have a reasonable sized phone).
The Cons: If you have Patagonia waders then you have a convertible suspension system that allows you to drop your waders down to waist height.  On the (RG) zip fronts, the zipper is thick and keeps the waders from rolling down easily (and staying down) around your waist. We routinely carry pliers, a knife, and bear spray on our wading belts. The new Rio Zips only have one belt loop in back, which means you need to clip your wading belt together when unclipping your belt or your gear will end up scattered on the ground.
The In-between: The Rio Zips have a roomier fit then Simms, which can be a pro or a con depending on your body style or layering needs. But I will say, when the weather gets chilly, it's nice to have some extra room.
If the zippered waders aren't your speed you can check out the Rio Gallegos Wader.
Women's Waders:
No longer do female anglers need to "deal" with hopping into a pair of waders that are designed for men. In the last few years, companies have started to listen to the needs of women by designing gender specific wader lines for comfort. But like Men's waders, not all Women's waders are created equal…
We have had several female guides over the years and their choices have fallen into two categories for wader choices, Simms or Patagonia.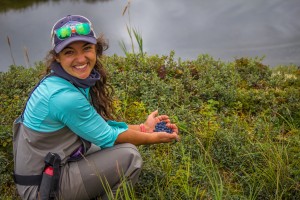 Patagonia
Many women, including WRG guide Kate Rutherford preach to the comfort and design of the Patagonia Women's Spring Wader. The quick drop-seat function has proved a valuable asset when it comes to relieving yourself without removing clothes in the backcountry. They feature the same durable 4-layer H2No technology proven in their waders for years. A downside of going with Patagonia is they only make one women's wader so you are locked into spending about $400 on the Women's Spring Wader but their warranty is rock solid should you ever have any issues.
Simms:
Simms produces two different waders for women, the Freestone ($250) and Womens G3 Gui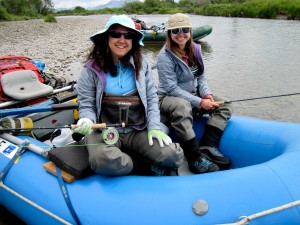 de ($500), which gives you some options based on your use level and budget. Our guides haven't tested the Women's Freestone Wader* in Alaska which only features a 2-layer breathable fabric. The wader reportedly does not breathe as well as Gore-Tex but this could benefit ladies that run cold. The Women's G3 Guide Wader may come with a higher price tag, but it can handle Alaska fishing. WRG guide, Aubrey Romo has enjoyed the durability of the 4-layer Gore-Tex and reported the straps and pocketing as "user friendly."
There are some choices to make when considering your next pair of waders. If you are a casual angler that prefers to wet wade on the home waters, it may be wise to save some beer money and find a less expensive pair of waterproof pants. Reddington, LL Bean, and Cabelas all make affordable models that will work fine for an occasional wade. But for your Alaska float, or if you plan on heavy use on your home river, it is worth it to invest in a pair of high quality waders that will last you for years to come.
See you on the river!