The Gear List is ideally what you will pack.It is an "Essential Gear" list. The Essentials Gear List works for visitors & guides on 5-10 day back-country Alaskan float trips in June, July & Aug. All the clothing & gear would be appropriate for expeditionary fly fishing trips ranging from Patagonia, Argentina , to Scotland, New Zealand, to the Alaskan arctic and most of the clothing doubles as 4-season Steelhead fishing, backpacking, ski and snowboard clothing.
"Essentials List" For Alaska Float Trip: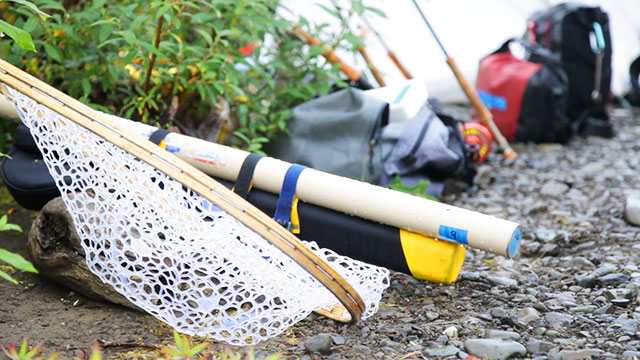 1 Wading / rain jacket with hood. The best you can afford. *
1 Pair chest high waders ** Read our thoughts on waders.
1 pair Wading Boots. Rubber soles. No felt. Patagonia "Danner" with Aluminum bars or similar strongly recommended especially for anglers over 60 years of age or If you are not surefooted in moderate wading situations.
1 Pair camp shoes. Crocs are our preferred camp shoe, but Keens or Light hikers are perfectly sufficient.
1 Pair Polarized sunglasses (lighter lens colors). Croakie's or chums retainer is good.
1 Med-Heavy polar fleece hoody jacket or Primaloft insulated jacket like Patagonia Nano Puff, Simms Fall Run ***
1 light insulated fleece or Primaloft vest
1-2 Sets med. wt. Poly-pro long underwear ***
1 Pair polyester polar fleece pile wading pants or "expedition" wt. long-john bottoms ***
1 Pair "river, flats, or travel" pants (brushed nylon quick drying) ****
1-2 Long sleeve shirt, synthetic, quick drying in light colors such as tan, yellow. Dark blue attracts mosquitoes.
1-3 polypropylene  T-shirt base layers
1 or more pair light gloves to fish in. The guides wear the nitrile 370 gardening gloves made by Atlas.
1 Pair of warm wool or synthetic gloves
1 pr. per day, med-heavy, wool-blend or polypro socks (hint "Smartwool" or Merino). Socks labeled "wading, hiking, or trekking). Some bring less than 1 pair/day. Personal preference. No Cotton!
1 Cap w/bill for sunshade
1 "Fuzzy" mid weight polar fleece ski hat or "Bomber" style earflap hat for wind & cool wx.
1 Small bottle mosquito repellant w/ "deet" ingredient
1-2 Buff neck gators for sun, wind, & insect protection
1 Insect head net
1 Toiletries kit, toothbrush, fem hygiene, minor first aid supplies
Boxer shorts, underwear 3-4
Prescription glasses as needed + Backups
Prescription medications
1 Pocket or belt knife, Swiss army etc. As TSA allows.
1 small waterproof duffle, hip pack, or waterproof day pack for tackle. 20L Roll top or Patagonia Stormfront Waterproof Zipper work well.
1 Pocket butane lighter. As TSA allows.
* 3 layer Gore-Tex for "Extreme" rain gear by Simms, Patagonia, Mtn. Hardwear, Arcteryx, Northface, Marmot etc. Alternatively a high quality 100% waterproof rain jacket for commercial fishermen by Helly Hansen, Grunden etc.
** Gore-Tex waders for "Immersion" by Patagonia, Simms, Orvis, Redington or similar.
*** Generic polar fleece or Patagonia, REI, Northface, Simms, Mtn Hardwear etc
**** Ex-officio, Northface, Patagonia etc
"Essentials" Fly Fishing gear suggestions: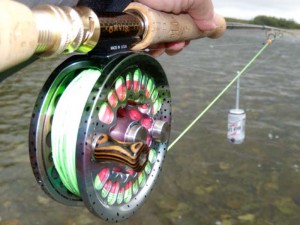 1-3 fly rods / reels per person (ideally 3-4 pc travel rods). A 5-7wt. and a 7-9 wt. ( 9-10 wt if specifically targeting trophy Kings in June-July. Switch rods are an option for Kings and Coho) Ask about loaner rods!
Fly leaders & tippet material. 10# tippet for trout, grayling, char, 12-16# for salmon, 15-25# for kings. RIO 10-16# Salmon/Steelhead leaders or similar stiff, abrasion resistant, material.
2-4 Fly lines on spools. Floating weight forward for Trout, Char, and Grayling (6-7 wt). Floating weight forward 7-9 for Salmon. Intermediate sink tip(s) for large Trout / Salmon on your heavy rod (7-9wt). Cold Water weight forward shooting lines or similar lines perform well with heavy flies & or windy conditions.
Flies, floatant, split-shot, pliers, line nipper/cutter, strike indicators, hemostat or sml. needle-nose pliers
Request our customized fly list/ Bead kit to make sure you are well covered for flies!
1 Wading staff if needed
* Alaska Fly Fishing Goods. http://www.alaskaflyfishinggoods.com/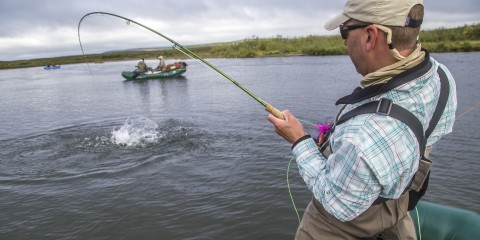 About weight limits: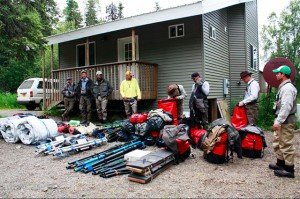 Wild River Guides trips will take you far beyond where the lodge jet boats operate. To get there we will load a high performance float plane with the correct type of raft and camp and fly fishing gear and the proper amount of supplies. We weigh each angler and piece of gear on electronic scales before loading the airplane. You can bring a maximum of fifty pounds #50. This includes your clothing, waders, boots, rods & reels, Gore-Tex rain jacket, spare tackle, camera etc. Experienced Alaska anglers generally have less than #35 pounds of gear.
Optional within weight limits:
Journal, Art supplies, Cameras & film, Memory Cards, Batteries, Small flashlight in August or Sept.
Binoculars, Spotting scope, Field guides, Insect  jacket .
GPS with loaded Bristol Bay base maps.
Map set and Compass.
Wading staff, Trekking, Bathing suit, shorts.
Contact us regarding bringing personal firearms (not preferred) – Guides will carry long guns with adequate bear loads.
If you are more comfortable in your own sleeping bags, sleeping pads or dry bags, you are welcome to bring them after contact with us.
 DO NOT BRING bear spray (We provide – not allowed by TSA), heavy, fragile, electronic or bulky items, or your own tents, rafts, canoes, or kayaks.