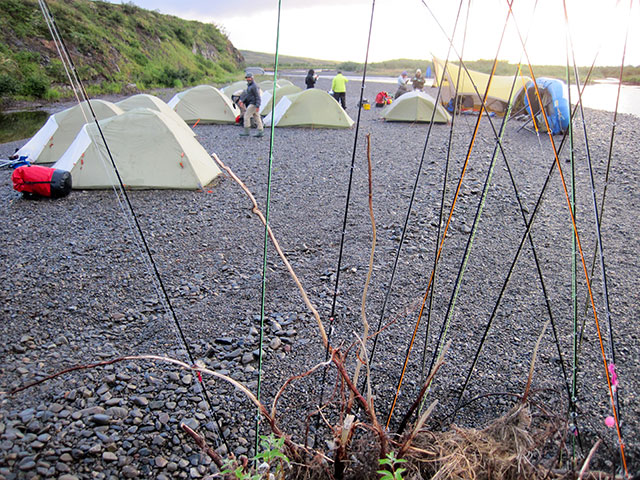 Fly & Tackle Notes are organized chronologically from June through September. Their purpose is to stimulate discussion and help you to consider the tackle you need in the context of the Bristol Bay fishery, the season, and the technical details of fly presentation. The notes are brief. As you make your plans and lists I encourage you to call or write me and discuss gear in more detail, especially costly purchases for your trip.
Early Season June 10 – July 10.
In May the last ice comes off the Bristol Bay rivers. From April through late May Rainbow Trout are spawning which they complete by the end of the first week in June. Post spawning trout dispersal spreads the adult fish out over the river which makes raft based fishing trips so effective.
Arctic Grayling, like Rainbow Trout are spring spawners. The largest Grayling in the population move far up into the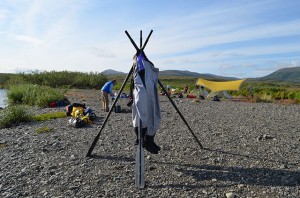 headwater creeks and rivers, as much as 50-100 miles from their winter pools! Over the course of the summer the Grayling remain generally segregated with the trophy fish upstream and smaller fish more common in the lower reaches.
Dolly Varden Char and Arctic Char, like their Brook Trout cousins, are fall spawners and then they over winter in large rivers and in lakes with river connections. Dollies migrate downstream to the estuary in the spring. Arctic Char are resident in the larger lakes, inlet creeks, and in the outlet rivers below the lakes.
When we are searching for Rainbow Trout and both species of Char in June through early July we are going to be successful using fry, sculpin, lamprey, leech, and general attractor patterns. Fly-fishing for Arctic Grayling in June is notably different from the other three species. Arctic Grayling are more exclusively feeding on aquatic insects, particularly Caddis, with a lesser reliance on Stoneflies, Mayflies, and fry in the early summer.
In late June the first Chinook, Sockeye, and Chum begin nosing up the river and some very large Rainbows will accompany them. The early arrival Sockeye and Kings will be holding in deeper pools, large eddies below bluffs, and places in the river with cover from aerial predation like log jams. The Chum will be more spread out.
The first rod, on the first afternoon, that we'd line up is a 4-6 weight with a weight forward floating line and a 9-foot leader (Tippet about 0.10 diameter, 6-8# breaking test). Tonight or tomorrow we'll take the time to line up a second rod. We'll tie on a dry, like an Elk Hair Caddis or Stimulator if the sun has been out or a Copper John or Pheasant Tail under an indicator if it's cool.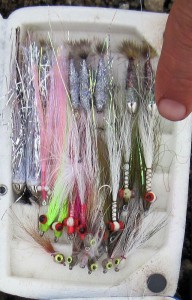 When setting up the second rod, a 7 weight, for the upper and mid river in we'll use a weight forward floating line, a RIO Steelhead / Atlantic Salmon #8 leader and a weighted leech in colors contrasted with white or choose Smolt imitations. Rainbow, Char, and larger Arctic Grayling love smolt and smolt are easier to cast than big leaches. Streamers & leeches cast so much better on seven weight lines which have enough mass to dampen the aeronautic maneuvers of the fly than on #5 weight rods.
The natural feed taken by large carnivorous trout and char in the early season include lamprey, whitefish, fry / smolt, caddis, sculpin, and snails. The trout and Char are opportunistic until the salmon spawn comes to dominate in late July.
Salmon arrival! Is there anything under the midnight sun comparable to the overwhelming power of a King Salmon making its first run upstream with your fly? Then again Sockeye are so acrobatic that an angler can make a good case for fishing sockeye until exhaustion forces you to the tent for a few hours sleep. Bright Chum are really, really tough. There is lot's to love about Pacific Salmon including keeping a fine Sockeye or a jack King for dinner.
A 7-8 wt. rod for Sockeye and Chum is perfect, and for that matter will work for the occasional King. We'll want a fresh 9 foot tapered RIO Steelhead / Atlantic Salmon #10 leader for the floating line or a 3-4 foot pull of 10# pound test tippet for the sink tip line. With salmon and trophy Rainbow the knot we use to tie leader to fly is important. A non-slip loop knot is best. Learn to tie it and use it on streamers wherever in the world that you want to land large fish.
Fly selection for salmon. Which species are we seeing? If the Sockeye are pushing past in good numbers we should try sparse "Copper Swans" and "Montana Brassie" patterns. Chum are going to hammer the leeches that you've been searching for Rainbows with but if you want to target them tie on patterns in green colors. If we've found Kings we'll throw "Intruder" style flies in pink or orange. If the sun has been on the fish in clear water and hot colors are not working we'll try smaller and darker Leeches, purple or black nymphs, or Woolly Buggers.
Mid Season: July 10- July 30.
The Chum spawn turns on during sunny afternoons as the water temps rise and turns off on windy and cold days. If we can't find feeding Char and Rainbows on or below Chum beds we will find them in the nearby logjams and root wads.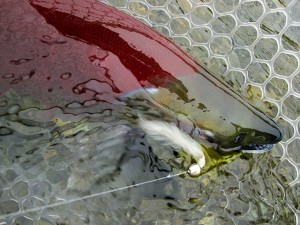 Early Chum Salmon often spawn in small groups of 2-4. We are looking through polarized glasses for patches of clean gravel contrasting against the riverbed of greenish to golden algae covered cobble. Beads are pegged below an indictor to drift through the early Chum spawning redds.
Next the Sockeye & Kings stage and set up territories. The seams and eddies below islands, sloughs formed by back channels, and the mouths of creeks will hold dozens to hundreds of salmon. They are maturing sexually and metamorphosing from sleek silver bullets to hook-nosed monsters.
The big bunny strip leeches remain terrific as searching patterns. But beads become the most efficient pattern when the Chum spawn is turned on and we are sight fishing. The different catch rate contrasting 2 anglers fishing near spawning Chum, where one is fishing beads and one fishing streamers can be 10/1 in favor of beads.
How many streamers, leeches, buggers, zuddlers etc will you lose in a day? Probably about one half dozen streamers per day and one half dozen beads per day if you have good leaders and knots.
Late season. August 1 through September 10.
We generally begin August under summer weather conditions and end it with monsoonal Bering Sea storms. The Rainbow Trout and Dolly Varden Char fishing in the prime water is unbelievable. Coho slam big leeches. When we are fishing; the minutes fade to hours and every time you look at your partner down the gravel bar a fish is being landed.
Although August conditions can be sublime the weather can never be taken for granted. One looks over one's shoulder at the lenticular clouds over the mountains, raises the hood, watches the barometer, ignores the drizzle, and prays for good flying weather.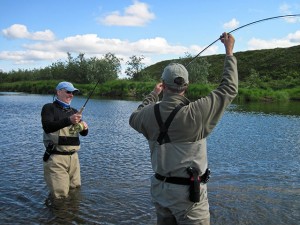 In the upper river you fish the Sockeye spawn at the put in lake for Lake Trout, Arctic Char, and Dolly Varden, then pass through the upper reaches casting to deep pools, structure, and spawning beds. You pass into the middle reach where the Sockeye and King spawn will be in full swing attended by Rainbow and the bulk of the Char run while good numbers of Coho will be staged in the "soft water". Here you slow your progress and wade while sight fishing to the spawning beds and to pods of Coho. The big bunny leech tied in contrasting colors on the seven weight rod is a great way to go while you search from the raft then pick up the "egg rod" and cast among pairs of salmon with a bead below an indicator.
Who doesn't love large Rainbow and Grayling rising to dries or in this case mouse patterns? You will need floatant to skate the mice and a strong, accurate cast reliable enough to pitch them to within a foot of the bank like throwing hoppers in Montana or Wyoming. When mice work you might not want to catch Rainbows any other way.
By mid and late August the Coho & Dollies are far up in the rivers, Rainbow are focused on flesh & eggs. Always use heavier leaders (10-16#) on the streamer rod with Coho in rivers and use the strip strike on any fish that takes a streamer.
As the river gradient flattens out you want to find a "reach" of river where the spawning gravel and the water conditions are perfect for your week and spend some time there. One cannot tell where that perfect water will be from looking at a map, or viewing the water in the earlier summer, one has to let the salmon choose for themselves.
You will catch Coho all week! When they are "laid up" in small pods, behind gravel bars, and in soft water by Beaver lodges, one or two of the most aggressive fish will slam the big leech. On quiet mornings you can throw the Polly Wog to relaxed pods and watch the jaws emerge from the still slough water and inhale the fly. The fishing is so strong in August that only the weather can make it difficult.
Perhaps you came to focus on trophy Trout. A big wild Bristol Bay Rainbow is 24"-28+" inches. Hooking a twenty-eight 28" inch Rainbow in August will stun you. Every year fish of 30" inches are caught and released here. There isn't a single formula for success on these "Old Growth Fish" but there are techniques that stack the odds in your favor
On the lower river with a fly rod and a stiff breeze off the Bering Sea in your face you'll want to re-focus on both the fundamentals of fly-fishing and of safe Alaska travel. Water over the top of waders can change the focus from recreation to survival in a heartbeat. This is not the time to make a sloppy cast and anchor a #2/0 streamer hook in your cheek!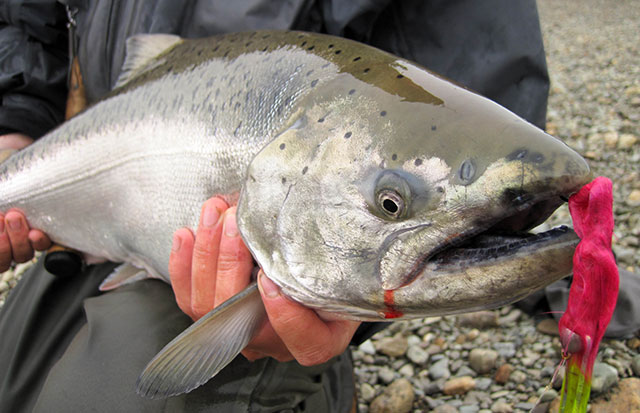 A couple of things to consider:
Safely wade and fish with a buddy, wear your Polarized glasses, keep fire starter in an inner pants pocket, and wear your wading belt snug with bear spray holstered.
Release your fish in good shape and minimize handling & photos, which require them, being out of water gasping for oxygen.
Re-tie your fly with a solid non-slip loop knot after several fish.
Re-check the ferrules of your rod every morning.
Fish deep!
"Strip Strike" to set the hook.
Set up your jacket with hemostats, line nipper, & stock your pockets with leaders & flies.
 Bring a small waterproof tackle bag to hold tackle plus your extra sweater, hat, and gloves.