Flies for Bristol Bay Rivers and Creeks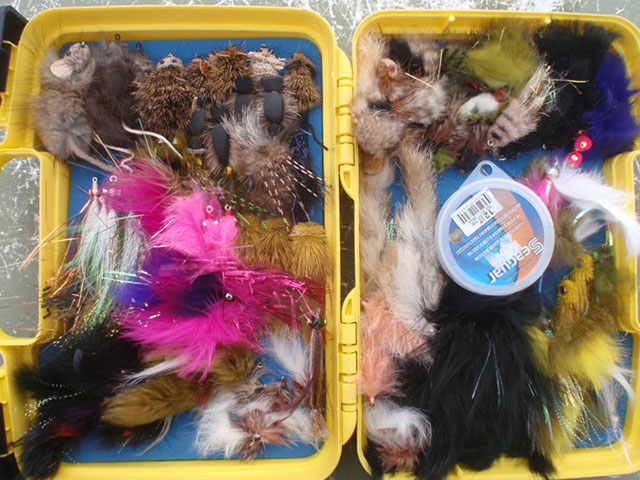 It is not as simple to select flies for an Alaska trip as just picking a handful of all purpose attractor patterns, some egg patterns, and a few gaudy salmon streamers. Bristol Bay rivers and creeks have complex stream morphology, variable entomology, uneven distribution of smolt and baitfish, and watershed specific fish run timing. Your fly selection should be tailored to the exact week that your trip is scheduled. Fly patterns of June hardly resemble patterns for August. Plus your goals will influence your fly selection for a given week. If you are solely targeting Rainbows your fly selection will be different than if you want to sample all the game fish from Sockeye and King Salmon to Sea Run Dolly Varden and Arctic Grayling.
When possible, tie or buy your fly patterns articulated or with stinger hooks, or as tube flies for a significantly higher ratio of total fish landed and with much less damage to fish mouthparts than traditional streamer hooks.
Considerations for June
In June we generally use a floating line in the headwaters casting dry flies for trophy Grayling as well as "searching" with weighted streamers. Later after you've worked down river and the water depths in channels and along the outside bends exceed 4 feet then, you might switch to the sink tip. For Rainbow, Arctic Char, and holdover Dolly Varden Char you'll be pitching weighted streamers. You are targeting root wad structure, deep green channels, and sweepers. One loses a lot of flies using this method unless you use an indicator. The Rainbow are hiding in cover in the woody debris and broken chunks of sod left from spring flooding to avoid Osprey and Eagle predation. The Char will be in pools herding smolt and in riffles that don't hold the more wary Rainbows. Cast aggressively to launch the weighted flies with lots of line speed.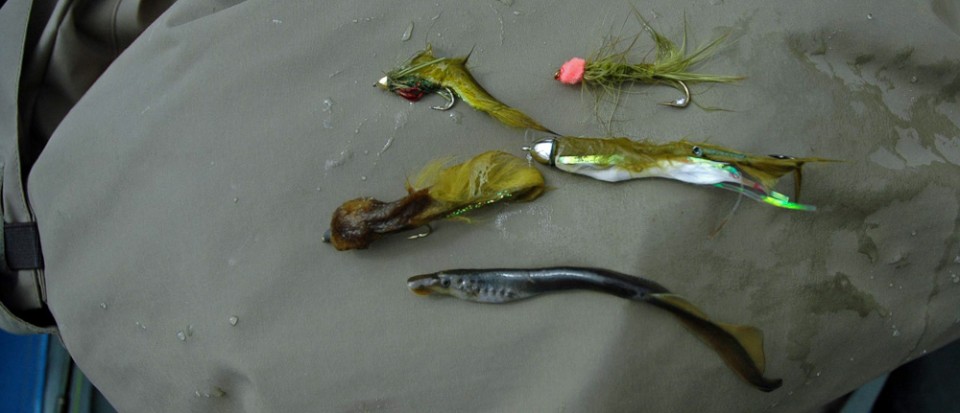 June Patterns: For Grayling dry flies- Elk Hair Caddis, Royal Wulff, Parachute Adams, and Stimulator plus wet flies like Copper John's, & Pheasant Tails.  For Rainbow consider the Stinger Clouser, and Strung out Thunder Creek Smolt patterns, Bead Head Wooly Buggers, Sculpin, Leeches, Mice, and a few 8 mm beads to round out the fly box.  Smolt patterns are terrific for Char. Articulated "Intruder" style leeches in various contrasting colors for early Kings. Green leech patterns for Chum. Sparsely tied patterns like Copper Swan, Montana Brassie, and Sockeye Lantern for Sockeye. Html link to June blog post titled A Fly Selection for the greatest Trout and Salmon fishery in the world, Bristol Bay, Alaska
Considerations for July
It is so much more complex to stock your Alaska fly box for July than for June or August! A great deal more feed variety is available to resident fish in July than in June including fry of salmon, trout, char, and Grayling. There are Caddis, Stonefly, & Mayfly nymphs, snails, plus Chum salmon sometimes start to spawn in Mid July and there can be a few bits of decomposing Chum Salmon flesh late in July. There are resident Three Spined Stickleback, small Arctic Lamprey, and Sculpin that are pounced upon with enthusiasm by game fish. Forage diversity is at the seasonal apex but you'll sort through 3-6 patterns per day trying to figure it out. In mid July, the largest adult sea run Dolly Varden begin to return to the rivers. In the last week of July you will need Coho / Silver fly patterns. If it is a Pink Salmon year then all 5 Salmon can be present after Coho return yielding the Pacific salmon "Grand Slam".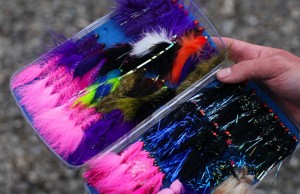 July Patterns: For Grayling dry flies such as Elk Hair Caddis, Royal Wulff, Parachute Adams, Stimulator plus wet flies like Copper John's, & Pheasant Tails.  For Rainbow smolt patterns such as Stinger Clouser, and Strung out Thunder Creek, Bead head Wooly Buggers, Sculpin, Leech patterns such as Loop, Articulated Bunny, Sleech, Lead Eye, Dolly Lama, S&B Super string, Intruder, Starlight, Mice select from Mr. Hanky, Loco, Preparation H Mouse, Moorish Mouse, Blair, or Darth Skater. Bring 1 small bottle silicone floatant for mice and the Elk Hair Caddis you bring for Grayling. Bring a small bead "kit" for Rainbow (8 mm Chum). Incoming sea run Dolly Varden Char are hardwired for salmon spawn so beads will take them more so than leech patterns. 2 anglers can share 1 bead kit. A couple of flesh patterns round out the collection for July.
The King and Sockeye runs peak in July.  Fish Kings using single handed rods with 9' foot long X 3"-6" I.P.S. sink tip line, deep and slow in pools, below islands, and deep center channel runs with articulated Hareball, Intruder, Stinger Prawn, String, Critter, or Turbo leeches in Pink, Orange, Chartreuse, Purple, Black and contrasting combinations. Please release the mature Kings to spawn while keeping a delectable "jack" King for dinner. For Sockeye the size #6 Copper Swan, the Sockeye Orange, Sockeye Special, Montana Brassie, Sockeye Lightning, and Red-hot will produce great sport and provide our favorite (and most sustainable) fillets for dinner. Chum are going to slam your trout and salmon offerings particularly anything green. Pink Salmon will take smaller leeches, buggers, and pink and white Clousers in the lower river.
The arrival of Coho in the last week of July requires contrasting pink, purple, white, black, and chartreuse leeches, buggers and Clousers. Coho are rarely in large enough numbers in July to make the Pink Polly Wog effective. Focus on leech patterns like Hareball, S&B String, Moal, Kilowatt, Thunder, and Dolly Lama. Clouser patterns in chartreuse/white work well in the estuary, and pink/white Clousers work nicely up river. Html link to July Fly Patterns for Bristol Bay Alaska blog post
Considerations for August
August is partly defined by the aggressive Coho / Silver Salmon, partly by trophy Dolly Varden Char in full pre-spawn coloration, and partly the chance to take very large Rainbows on eggs and flesh. There is a window in early August where all 5 Salmon are present yielding the Pacific salmon "Grand Slam". When the factors of run timing and spawning align you won't need as many patterns as July because the trout char and grayling are focused on spawn but you will lose lots of leeches and flesh patterns to aggressive Coho, Rainbow, and Char among root wads and submerged logs, so quantity matters.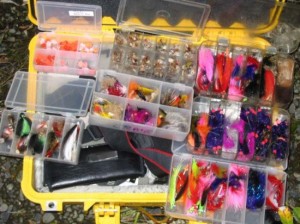 August Patterns: For Grayling bring a dozen dries and a dozen nymphs as for July.  For Rainbow leave out smolt patterns and concentrate on Leech patterns of contrasting color, plus a quality bead kit with Chum,Sockeye, and King egg imitations. Bring a handful of mice, and a selection of flesh patterns. Selecting 3-4 streamer / leech patterns in a variety of colors in size #6 and size #4 makes sense. For mice I'm partial to Mr. Hanky, Loco, Preparation H, and Moorish. Remember a small bottle of silicone floatant. Your Bead kit for Rainbow and Char should be built specifically for the particular Bristol Bay river you'll be fishing and for the period you are fishing in August. I don't recommend skimping on this kit considering that 2-3 anglers can share a professionally built kit. Incoming sea run Dolly Varden Char are hardwired for salmon spawn and you will have a chance to participate in one of the most spectacular fisheries on the planet. You'll want to fish flesh patterns among root wads and sunken logs. Many anglers take the largest wild Rainbow of their life in August and flesh patterns account for quite a few of those.
Coho in the tidal estuary and lower river are going to hammer chartreuse and white Clousers. In the soft holding water upstream of the tidal zone throw Clousers, Articulated Leeches, Flash Flies, Sparkle Shrimp, and perhaps if the constellations are aligned, in the early morning they'll hammer your floating Pollywog patterns.
There is some overlap between Rainbow and Coho Salmon patterns and it requires some pre trip fly "allocation". Coho fishing is focused toward the second half of your raft based fishing trip and you'll want to manage your selection of large, colorful, conehead, lead eye, and barbell style leeches so that you have an ample reserve for the Silvers down river. For planning purposes the most concentrated Silver Salmon action will occur in the final 20 miles of a given river system through the third week of August. There will be good numbers of Salmon farther up river but the really large pods of Coho will hold in the lower third of the river until a big autumn storm sends them up. Some years the major storms commence in mid August, other years not until September. In any event save some flies for the lower river.
There are so many outstanding flies available for Coho/Silvers that narrowing down the selection is a challenge. I'd recommend choosing 2-4 Coho patterns in contrasting colors, sizes, and weights. You'll generally fish them with a 9' intermediate sink tip. Quite often you'll be sight casting and able to adjust the sink rate. Include the colors, purple, pink, chartreuse, and black. Articulated Bunny leeches, Hareball, Intruder, Stinger Prawn, String, Critter, Dolly Lama, and Turbo style leeches are replacing traditional (non articulated) leeches and streamers, due in part to their increased hooking and holding power plus overall attractiveness.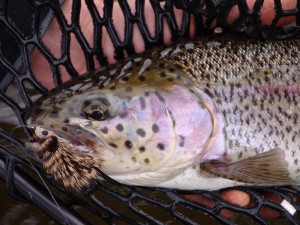 Dry flies for Coho, Pink Polly Wogs, and the practices of "Wogging." We throw dry flies at Coho in order to witness "the take / the eat." I'll not argue that you will catch more Coho on Polly Wogs rather you'll have spectacular top water action once you're satiated from catching Silvers on streamers. The color pink still dominates the psyche of top-water silvers but chartreuse or purple is second and third choice. Traditional spun deer hair, popper style, and foam bodied "Wogs" are all excellent. The hard bodied Popperwog arguably cast better than the spun deer hair. Bring floatant for deer hair Wogs. I'd recommend bringing ½ dozen "Wogs" of 2-3 various styles in pink, chartreuse, and purple.
Html link to August Fly Patterns for Bristol Bay Alaska blog post
When in doubt call Alaska Fly Fishing Goods Fly Shop in Juneau. They may separate you from a few of your dollars but not just for the sake of commerce. If they can offer you a particular solution to gear or fly questions they will do so otherwise they'll advise you to save your dollars. They know the individual Bristol Bay rivers and run timining. They have all the most effective patterns. They understand the needs of fly tyers. They build the best bead kits I've ever seen. (907) 586-1550 between the hours of 9:00 am- 5:00 pm Pacific Standard Time. www.alaskaflyfishinggoods.com