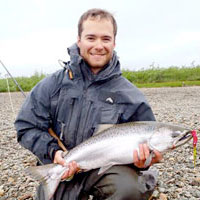 Olly is fanatical about both fly fishing and wilderness guiding in remote Alaska. If you're not amazed by his backcountry know-how, you surely will be by his calm demeanor and sense of humor.
---
Education
Deerfield Academy '06 –Deerfield, MA
Williams College '11 – Williamstown, MA

Bachelor of Arts in Political Science
Minored in Legal Studies

Sweetwater Travel Guide School, 2011– Bighorn River, MT

CPR, First Aid Certified
Jet boat operation and maintenance
Drift Boat / Rowing
Fly Casting

NOLS Wilderness First Responder 2012 – Hudson, WI
Abstract
Born in 1987, started fly fishing in 1998. First came to Alaska in summer of 2002, guided by Mark on John Merritt trip, and returned in summer of 2009. Grew up in New Canaan, CT while spending 3-4 months annually in Cable, WI and Islesford, ME. Attended Deerfield Academy and Williams College in the Berkshire Mountains of Massachusetts, played lacrosse at both. Studied political science, with strong interest in literature and architecture as well. Summer seasonal work for Orvis 2009-2011. Began work for Wild River Guides in 2011. Accepted year around guide position with Wild River Guides in October 2011 and as Marketing Director for Middle West and Atlantic states.
In October 2012, began internship with the Natural Resources Defense Council in Washington, DC providing research on energy issues in Canada. Focus of work has been on the Canadian oil sands industry and offshore oil and gas exploration in the Canadian Arctic.
Technical Wilderness Guide Skills
Raft & Drift boat oarsman, Leave No Trace Camp specialist, Firearms proficiency with both Shotgun & Rifle, Fly-fishing specialties: Rainbow Trout, King Salmon, Coho Salmon, Muskie, and Large & Smallmouth Bass. Camp Chef (Sushi). White tail Deer & Turkey archery hunting enthusiast.
Employment (2009-Present)
Orvis
Fly fishing guide, full time, Wild River Guides ltd.
Marketing Director, Middle West and Atlantic states, Wild River Guides ltd.
NRDC 2012-13