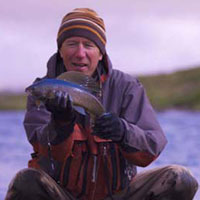 With over 34 years of fly fishing experience in Alaskan rivers and a Masters in Education in Alaskan Aquatic Ecology, Mark is one of the most experienced fishing guides in Alaska and the only one committed exclusively to wilderness fly fishing on the creeks & rivers that lodge traffic can't reach.
---
About Mark
Mark Was Born in 1953 and has been fly fishing since 1962. He arrived in 1972 in Savoonga, Alaska just 2 weeks after graduating from the Athenian High School, Danville CA. He has over 34 years of professional study, exploration, & management of Alaska wilderness and 16 years as a full time professional wild land firefighter in Helicopter operations, logistics, & wildfire management. Member of the "Alaska Task Force" selecting lands for inclusion in wildlife Refuges during ANILCA including Becharof NWR and Aniakchak Caldera Monument. 35 years piloting whitewater rafts, canoes, kayaks, & jet boats from the Stikine to the Kanektok, from the Grand Canyon in Arizona to unnamed tundra creeks in the Bristol Bay region. Regarded by several authorities as one of the finest boat handlers in Alaska. Specializing in first descents of small wilderness salmon streams and tributaries exploring for rainbows, cohos, kings, & char. Guide Permits from the State of Alaska & Togiak National Wildlife refuge, licensed Alaska fishing guide. Host of the annual "Alaska Extreme Fly Fishing Invitational" wilderness expeditions.
Education
Masters in Aquatic Ecology Education, 1998
Antioch University – Seattle, WA
Emergency Medical Technician, 1988
University of Alaska – Fairbanks, AK
B.A. Natural Resource Management, 1977
The Evergreen State College – Olympia, WA
Technical Wilderness Guide skills
Class V+ Rafter, Class V+ Rock Climber, Grizzly/Brown/Black Bear Safety firearms qualified, Medical Evacuation specialist (Helicopters, first Aid, CPR, former ambulance EMT ), Leave No Trace Camp specialist, Camp Chef (American, Thai, Italian, French), Alaska weather forecasting , Long Distance Dog Musher.
Alaska fly fishing specialist
Employment (1985-Present)
Company Owner, Rutherford's Alaska Fishing Trips & Wild River Guides ltd. Wilderness guiding services for fishermen, families, and whitewater enthusiasts. (1998 – present)
Company Owner, Extreme Fly Fishing Productions Co. Wilderness media Production Company. (2005 – present)
Documentary Film contributor, "Trout Grass" David James Duncan & Andy Royer. (2003-2005)
Logistics Coordinator & Foreman, State of Alaska Department of Natural Resources, Tok, Alaska (1985-2001) (907) 883-5134
• Supervisor for the support branch of a state of Alaska Tok Area office managing natural resources & wildfire for 9,000,000 acres.
• Situation Unit Leader for large-scale emergency incidents in the United States and Canada.
• Supervisor of the Fire Dispatch Center and manager of aviation contracts.
• Helicopter Manager,
Alaska Wilderness Homestead, Successful wilderness family homestead at Cathedral Bluffs. (1981- to present)
Aviation Industry. Ramp agent for winter operations. Continental Airlines, Aspen, CO (11/1992-4/1993)
Biologist, Contractor. Data gathering and analysis of migratory bird usage of an Alaskan river corridor assessing the environmental impact of proposed military base in Alaska. Alaska
Biological Research, Inc. Fairbanks, AK (4/1987-6/1989) Bob Ritchie (907) 455-6777
Biologist, Contractor. Data gathering and analysis of migratory Chum Salmon through capture, telemetry implants, aerial monitoring, and tag recovery. US Fish and Wildlife Service, Tetlin
National Wildlife Refuge, Tok, AK. Manager (907) 883-5321. Company Owner, Alaska Gill Net Co., Sole proprietorship marketing equipment to Alaska Native fishermen. Tok, AK (1/1984-7/1988).
Community Service, Emergency Medical Technician. Volunteer on rural Alaskan ambulance squad. Tok Emergency Medical Services, Tok, AK (EMT-I, 1987-1988, EMT-II 1988-1989, ETT 1990 – present)
Community Service, Chairman, Fisheries Committee, Fish and Game Advisory Board, Alaska Department of Fish and Game, Tok, AK (2/1986-9/1988) Dave Kellyhouse, Director Alaska Department of Fish and Game.
Community Service, Environmental Education. Environmental education in public schools. (9/1989-present)
Biological Technician, US Fish and Wildlife Service, Tetlin National Wildlife Refuge, Tok, AK (6/1984-9/1984)
Publications
Bourgeau-Chavez, L.L., Lasischke, E.S., and Rutherford, M.D. (Fall, 1999). Evaluation of ERS and SAR Data for Prediction of Fire Danger in a Boreal Region. International Journal of Wildfire Management.