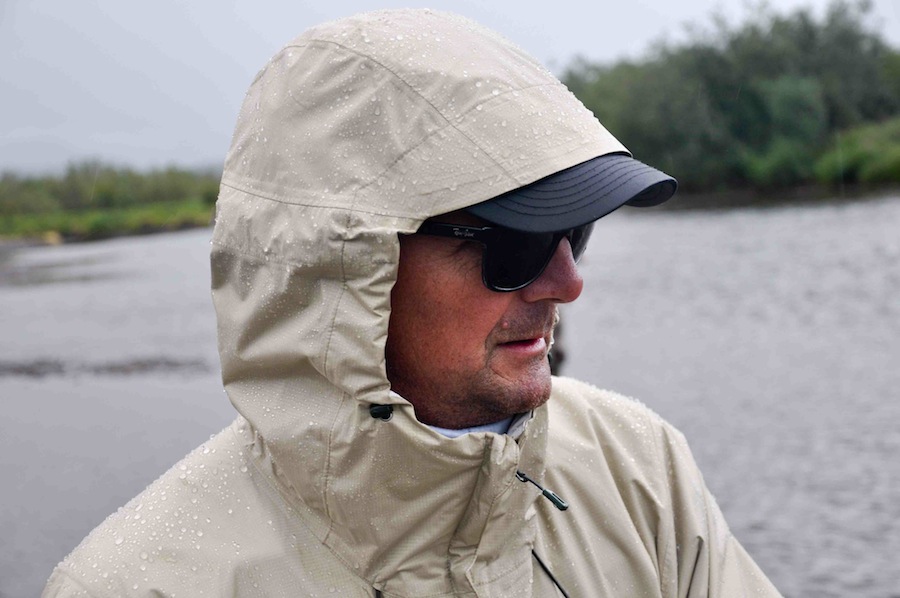 Rain or Wading Jackets are a critical piece of gear for wilderness rafting and fly fishing in western Alaska. Our climate is "maritime" and influenced by proximity to the cool waters of Bristol Bay and the Bering Sea. This climate provides all the cool water to our rivers to host the world's largest salmon population.
Our daytime average high temperature is 62 degrees. Our average nighttime low is 45 degrees. It is generally cloudy or partly cloudy and about one half the days each week we experience rain showers. It tends to be breezy mid day with an average 8 mile per hour wind. But here's a fun fact. You are going to experience long days of sunlight. In July you'll have 20 hours of fishable daylight. In late August 16 hours of daylight.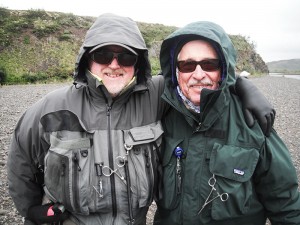 In summary we experience cool and breezy conditions with regular rain showers. For most of us a Gore Tex or similar waterproof breathable jacket in good repair will keep us comfortable for a week of fly-fishing. With a good rain jacket we'll enjoy our hours of raft travel even when our hoods are up in a rain shower. We'll be warm and protected from the wind.
There are lots of rain jacket options and if you are making a purchase I've included suggestions to fit your budget. Note: If you are a husband or father bringing your spouse & or family it's vital that the family has rain gear every bit as "bombproof" as yours.
What is in your closet now? Do you have a dedicated wading jacket? Do you have a Gore Tex shell for skiing or snow boarding. What do you currently wear when you are fishing or hiking or canoeing in rain showers? Does the jacket have a very good hood? Many of us have a serviceable jacket but the question you need to answer is: Is it up to the task of a week on an Alaskan river?
Grab your jacket off the hanger and critically look at it for worn (fuzzy looking or shiny) fabric, missing zipper teeth, and give it a test in the shower. If it passes your inspection then before you leave home treat it with a renewal of the outer waterproofing with a product such as "ReviveX". ReviveX will reapply the thin layer of Teflon like substance called DWR that causes water to bead and run off your jacket like "water off a ducks back". When the water beads and runs off it doesn't have much of a chance to seep though the fabric.
If your answer is: "I really don't know if it's going to keep me dry for 7 days on the river. I've worn it for years and it shows signs of wear & tear." My recommendation is to purchase a new jacket for the trip that will definitely keep you dry and should serve for years to come under more temperate conditions. I heard from more than one guide that they'd rather have a great jacket in Alaska than a new fly rod.
If you are faced with purchasing a new jacket here are some Jackets that have proven themselves.
The Simms G3 and G4 and the Patagonia SST are proven all weather fly-fishing jackets. This is what most of the guides in AK wear and should give years of service. However they are not cheap. Still several guides told me they thought a good jacket was more critical than a good fly rod in AK. Something to think about!
Getting value at a reasonable price. In addition to shopping at your local fly shop and outdoors store. Consider checking Sierra Trading Post like long time Bristol Bay angler Bob Erickson. He's going to be wearing a new Gore Tex jacket by Filson this year and he reports that he "never pays retail". When he made his Sierra Trading post purchase there were Simms, Redington, and Frog Togs jackets available as well.
Another option is EBay where there are discontinued new and used Patagonia and Simms jackets for sale.
Other wading jackets that our guests are happy with include LL Bean, and Cabelas and Helly Hansen. Guide John Jinishian got 2 hardcore seasons out of his Cabelas "Guidewear" jacket while expeditionary angler Rob Crawford loves his LL Bean Gore Tex Jacket. Bristol Bay guide Peter Jaacks reports that he fished Steelhead in the Olympic Peninsula rain forest all winter with Helly Hanson commercial rain gear and it was quite serviceable and affordable.
If you are a mountain sports person with an OR, Patagonia, North Face, or Arc Teryx Gore Tex jacket, that might be perfect for the trip. As above assess the jackets wear & tear, perform the DWR maintenance, and test it out against leakage.
For information on restoring the DWR finish of a jacket checkout REI or ReviveX. http://www.rei.com/learn/expert-advice/rainwear-dwr.html
https://www.mcnett.com/gearaid/durable-waterproofing#36230
I'll see you on the river with your hood up and a smile!